What to do and what to see in Quy Nhon, Vietnam
Most travelers tend to visit Danang, Hoi An, and Hue during their visit to central Vietnam. One place that needs to be on the list is Quy Nhon (Quy Nhơn or Qui Nhơn in Vietnamese). Located in the Binh Dinh Province and between Hoi An and Nha Trang, Quy Nhon is a quiet coastal city with beaches, delicious seafood, beautiful landscapes, historical landmarks, and very little tourists. It has plenty of activities to offer for all visitors.
Things To Do in Quy Nhon
Quy Nhon Beaches
The beach is the main draw in Quy Nhon and its surrounds. But there is also an abundance of markets–both day and night–selling everything from seafood and produce to clothes, shoes, arts and crafts, and souvenirs. The ancient Cham towers are also nearby.
Lining the city's beachfront is a terrific five kilometre-long promenade – ideal for walking and cycling while inhaling the sea air and ocean ambiance. There is a notable absence of commercial watersports, boat rides, or tours, adding to the appeal, The best swimming beaches are by the Seagull Hotel and the Royal Resort at the southern end of town along An Dương Vương Boulevard.
Venture out of town and be rewarded with beautiful and sparsely populated (if at all) beaches. Bai Xep Beach, 12 kilometres south of Quy Nhon, is an appealingly long, sandy beach that is excellent for swimming. A few kilometres further down the road you'll find Xuan Hai Beach, one of the cleanest and most beautiful stretches of sand in all of Vietnam.
Sand Dunes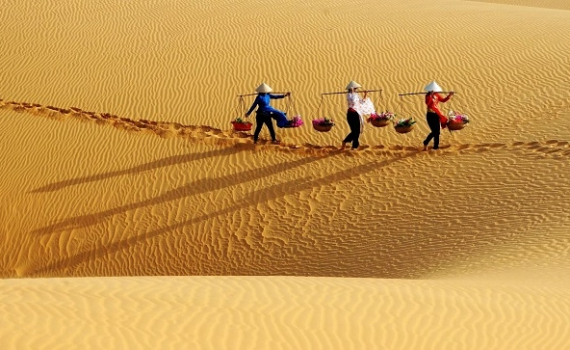 Looking for more sand? Try the dunes about 20 kilometres from the city centre on the Phuong Mai Peninsula. The dunes, next to Nhon Ly Beach, offer a dramatic change to the landscape. They are secluded, and a good place for boarders as well as great fodder for photographers. However if sandboarding isn't for you, climbing might be. The views of the coast and nearby hills once atop the dunes are marvellous.
The Cham Towers
Relics from the Champa civilization in Quy Nhon dating back to the 11th Century, are seen in town, and, as a day trip, out of it. Prmarily there are four sites worth visiting beginning with the impressive double tower of Thap Doi in town. Rent a motorcycle or bicycle to see the others–Banh It, Vijaya Citadel, Canh Tien–comfortably in a day. Taxis are also an option as is arranging transportation through your accommodation. Either way, you get a great run through the countryside while exploring an important part of Vietnam's past.
What to See in Quy Nhon
Quy Nhon and its surrounds have other sights worthy of your attention.
The Quy Hoa Ex-Leper Colony 
Not a typical entry on most people's 'to do' list is the city's former leper colony. While to some, this may wreak of exploitation, like visiting an orphanage, it doesn't feel that way. The Quy Hoa ex-leper colony on Queen's Beach six kilometres south of the city centre is a simple collection of structures mixing French colonial and Vietnamese modernist styles. Run by Franciscan sisters until 1975, Quy Hoa seems more like a peaceful beach village with a unique old-world feel than a leper colony.
Fishman's Port, Hai Cang Fish Market
On the north end of town, get a close up look at the day's catch being unloaded and put on ice. There are plenty of fishing boats plus a nearby lot where many of the large wooden fishing vessels in operation are built. In addition, the local workers are happy to show you around. But be advised that fishing ports aren't known for their pleasant aromas or cleanliness.
Bai Xep Village
A traditional Vietnamese fishing village located about 12 kilometres south of the city, though it feels worlds away. Wander the town's market, watch the fishermen fixing their nets and boats, and see how the Vietnamese here live. There's also a beautiful beach for swimming and sunbathing plus many spots happy to welcome you for a coffee or cold drink.