Langkawi (Malaysia): 7 experiences could give you an adrenaline rush!
Located on the northwest coast of Malaysia, Langkawi not only attracts tourists by its rich tropical nature, but also countless mysterious charms. I hope the list of 10 activities below will make your Langkawi trip unforgettable!
1. Take a Skybridge or Skycab
Langkawi Cable Car – with 4 outstanding stops: Skycab, SkyDome, Skyrex, 3D Art Langkawi – will give you a glimpse of the most famous attractions on the island. Possessing an altitude of 650m above sea level and a length of more than 1,700m, this cable car passes through the mountains, dense primeval forests and of course, the long coastline with the clear blue and picturesque ocean. painting. Choose a cable car with a glass base to test your courage, why not?
2. Get a Jet Ski Island Tour
Speed ​​trains are fun, but still more… light on the "adrenaline junkies". Time to spice up your journey with a Jet Ski (a kind of water motorbike) tour around the islands. There's nothing more "stimulating" than maximizing speed in the sparkling Andaman Sea From the white sandy beach of Beras Basah, the lone eagle of Pulau Singa Besar to wildlife in the surrounding forest. 
3. Watch the Underwater World Penguin
Don't like scuba diving? Does not matter. You can zoom in on a variety of marine life without worrying about getting wet at Underwater World. With This is one of the largest aquariums in Malaysia, gathering more than 4,000 aquatic species from tropical, temperate and Antarctic forests. Passing through this 15m long green tunnel, do not forget to take a few selfies with giant sharks, poisonous spiny tailed fish and extremely rare green turtles. Penguinarium, with the presence of adorable penguins – is a favorite destination for families traveling to Langkawi with children. 
4. Take the Zipline Through Geopark of 550 Million Years Old
Langkawi is not just sunny, white sand and blue sea. The mysterious rainforest is a "local specialty" that visitors can only enjoy by going Zipline. With this experience, you will gain a better understanding of the rich flora and fauna life in Langkawi. Test your eyesight by observing more than 220 precious birds that are residing here.
5. Conquer Water Sports At Cenang Beach
Golden Cenang beach iridescent in the warm sunlight is a familiar chill place of locals. Few people know that this romantic place is home to many "heavy" water sports. Admiring the emerald sea water surface from paragliding or confronting water waves on a banana boat is a memorable memory.
6. Watch Crocodile Show In The Tropical Rain Forest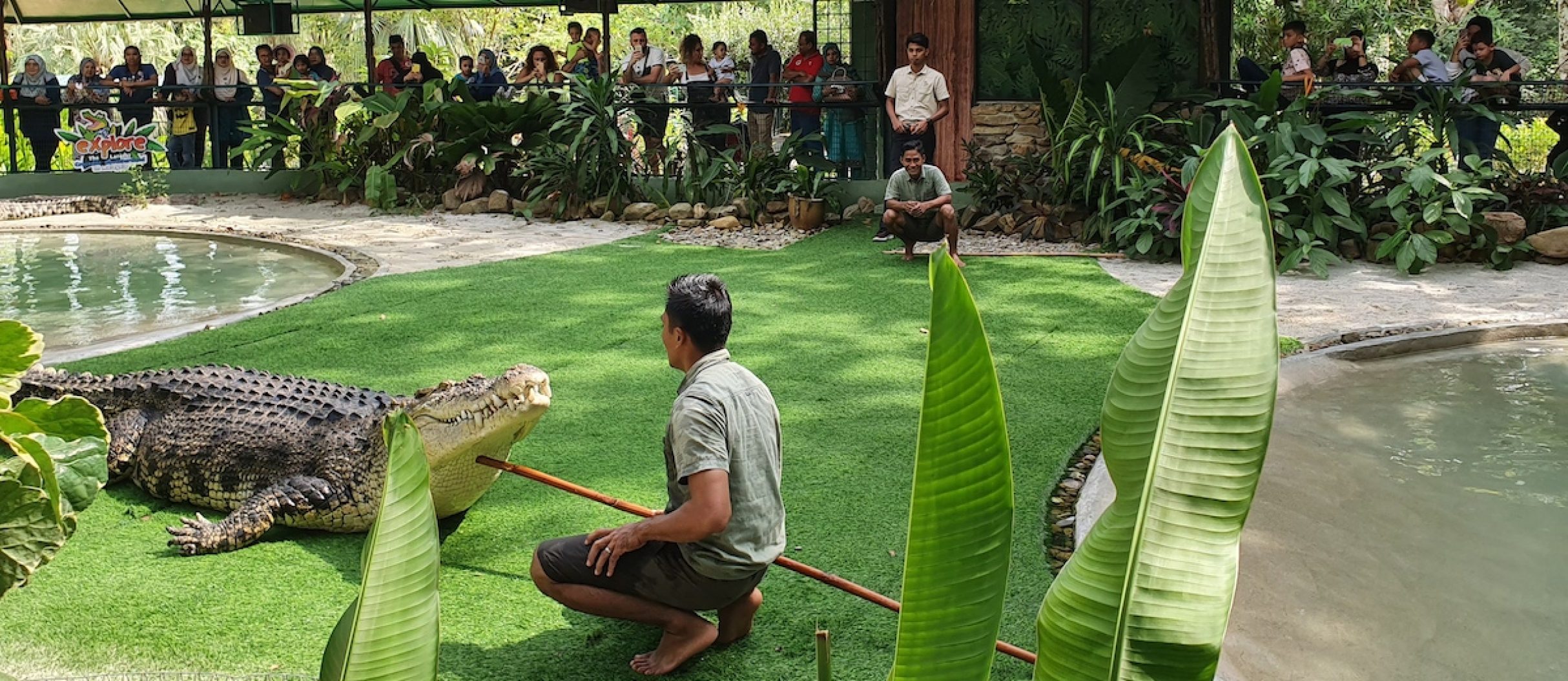 Crocodile may not be beautiful, but certainly unique enough to help you get a photo of thousands of likes on Instagram. Explore the life of this mysterious reptile at Crocodile Adventureland, the "home" of more than 1,000 natural alligators. After "shooting" as you like, you should take advantage of a beautiful place to enjoy the extremely creepy crocodile show.
7. Kayak At Kubang Badak
Traveling to Langkawi without kayaking is a big mistake. The inhabitants of the forest are very friendly. If you are observant, you will see countless cute little animals such as kingfisher, white stork, mudskipper, civet and many dodgy reptiles. Boating while enjoying the peaceful countryside is the best way to end your self-sufficient Langkawi trip.