How to get to Chiang Mai from Ayutthaya?
here are some experiences in Thailand that you know probably aren't going to be that much fun. Taking the night train from Ayutthaya to Chiang Mai is one of them. But let's be honest, you can't go to Thailand without taking a night train. Just don't expect much sleep on the train!
Options for Travel from Ayutthaya to Chiang Mai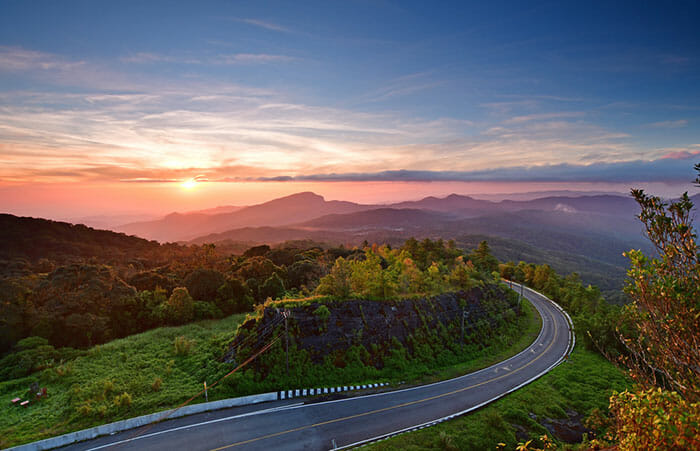 As with many destinations in Thailand, you have a handful of transport options to get you there. It's about 600 kilometers (375 miles) between Ayutthaya and Chiang Mai, and you can get there by road, by rail, or by air. Each method of transport has its advantages and disadvantages, the main ones being cost and time that it takes – the faster the transport mode, the more expensive it is! If you're visiting Thailand and want to take it slow, trains are usually the most recommended way to travel from Ayutthaya to Chiang Mai, but, if you're on a tight schedule and want to see as many places as possible in a short time, flying is by far the best way to go, provided you're not also on a tight budget!
Flights from Ayutthaya to Chiang Mai
Strictly speaking, we shouldn't be including flights on this guide because Ayutthaya itself does not have an airport, however, Bangkok's Don Mueang Airport is just under 60 kilometers (37 miles) south of Ayutthaya, making this a viable option. If you've already been spending time in Bangkok you may not want to head back there first, but, if you are pushed for time, traveling back to Bangkok and catching a flight will still be quicker than traveling to Chiang Mai by road or train.
There are several different airlines you can choose from, so this gives you more options if you're looking for the best deal, price-wise, and you're trying to tie in a flight with your busy schedule. Nok Air, Thai AirAsia, and Thai Lion Air all fly from Don Mueang to Chiang Mai, and the flight only takes one hour. The downside is that this will be the most expensive way to travel from Ayutthaya to Chiang Mai.Find the cheapest Flight tickets from Bangkok to Chiang MaiJanuary, 16Find Tickets
From Ayutthaya to Chiang Mai by Bus
Now we discuss the cheapest way to travel from Ayutthaya to Chiang Mai, and that's by bus. Buses are a little faster than trains but still take somewhere between 8 and 9 hours depending on the time of day and the amount of traffic. There are a few different companies offering this route, and comfort levels on the buses vary along with the prices.
Buses depart from the Northern Bus Terminal in Ayutthaya, which is about 5 kilometers (3 miles) east of the Old City. If you're traveling by bus during the daytime you will get to see a good amount of passing scenery, but, most tourists will tell you that the train is still the best way to travel!
From Ayutthaya to Chiang Mai by Train
Catching the train from Ayutthaya to Chiang Mai is definitely the most popular way to travel between these two cities, and when you hear all the advantages to train travel, you'll see why! First there's the cost – traveling by train in Thailand is affordable. And if you're on a night train and are staying in a sleeper cabin, you get to enjoy a night of sleep without having had to spend extra on a hotel, so this makes it even more affordable. Then there's the experience of traveling by train – it's something that everyone should do when visiting Thailand! Trains cross some of the most beautiful countryside, allowing you to see places and vistas that you wouldn't be able to see from the road, or would be too high up to see them clearly from the air. Of course, if you're traveling on a night train you will be making a lot of the journey in the dark, however, by the morning you're going to be treated to the best scenery as you approach Chiang Mai.
There are three night trains, and even with this many trains, the sleeper cabins get booked up very quickly, so be sure to get your reservation in advance. The trains leave at different times in the evening, arriving roughly 11.5 to 12 hours later in Chiang Mai so you will be traveling through the night. You can pick a cabin to suit your budget, including 1st class sleepers, 2nd class sleepers, and 2nd class ladies only sleepers, or, if you really want to save more money and want to do the entire train from Ayutthaya to Chiang Mai during the day, there is a daytime train too. Ironically, this is the fastest train as it takes less than 10 hours, but with only 2nd class seats available, this could be a tiresome journey if you don't like sitting still for a long time.It's good to know that on all of these trains there are frequently stewards walking through selling snacks and drinks, so you don't necessarily have to stock up before getting on the train.