10 things you should eat when visiting Langkawi (Malaysia)
There are plenty of Langkawi attractions to keep any traveler with itchy feet totally busy! But, for us, we were all about the food! We found some of our Malay favorite foods, as well as some new dishes we never tried before.
1. Langkawi Nasi Campur
Nasi Campur is a staple all over Malaysia as well as Indonesia, and we ate a lot of it when living in Bali. Nasi is rice, and campur is mix in Malay. The dish is literally a mix of stuff with rice.
In this case, at Seashell Restaurant Langkawi in Pantai Cendang, it was served on a humongous plate, with chicken, tofu, vegetable soup, and more. It was easily the largest nasi campur I have ever experienced!
2. Sambal
Nasi campur would not be complete without sambal, the spicy chili sauce served on the side. Although there are many different varieties of sambal, the bright red one is my favorite.
This is sambal belecan and is made with a fish paste. Unlike some of the other types of sambal, this one is actually not too fishy. It can pack a punch though.
3. Laksa
Laksa comes in many different varieties, whether you eat it in peninsular Malaysia, Singapore, or Langkawi. In Singapore, it is common to find this fish or shrimp-based curry soup with spaghetti style noodles.
The Langkawi variety offers a thick, fresh noodle, that was clearly made by hand. The broth was spicy and pungent, with a hard-boiled egg nestled on the top.
The best places to go in Langkawi for laksa might be a little surprising. When arriving on the island, you don't need to look far on the Langkawi map.
The place to eat Laksa is the road opposite the Langkawi airport. Grab a plastic table with a view of the water on one side and the planes landing on the other. Who needs to eat at the fancy Langkawi resorts, when you can eat like the locals do.
4. That's a Lot of Sate to Eat in Langkawi
This is definitely a Langkawi "famous food" – sate! We were told it is nearly impossible to run a successful sate restaurant in Langkawi Malaysia because people don't need to go to a restaurant for sate.
Sate is everywhere! Yes, you will find it on restaurant menus, but the best is in the local market because it's a typical street food in Langkawi.
Or, even better, the sate comes to you, with roving sate stalls that offer grilled chicken or beef on a stick, with peanut sauce and pressed rice. It's the perfect Langkawi street food.
5. Beef Rendang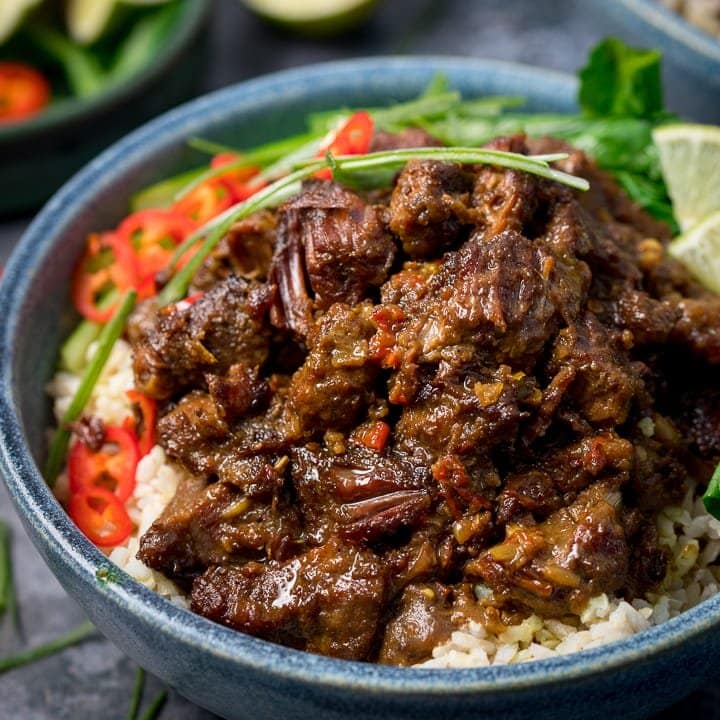 One of our favorite dishes from our time living in Bali. We ate beef rendang almost weekly at our local nasi padang. It is often made from a lesser cut of meat and can take up to 8 hours for the curry sauce to soak into the beef until the beef is almost dry with no sauce.
Once all that curry sauce is soaked in, the beef is a lot more tender. It's normally served over rice, or could be served on a typical nasi campur. And, as much as it is a curry dish, it's not too spicy. It's more flavorful than spicy. If people want it spicy they can add sambal.
6. Ikan Bakar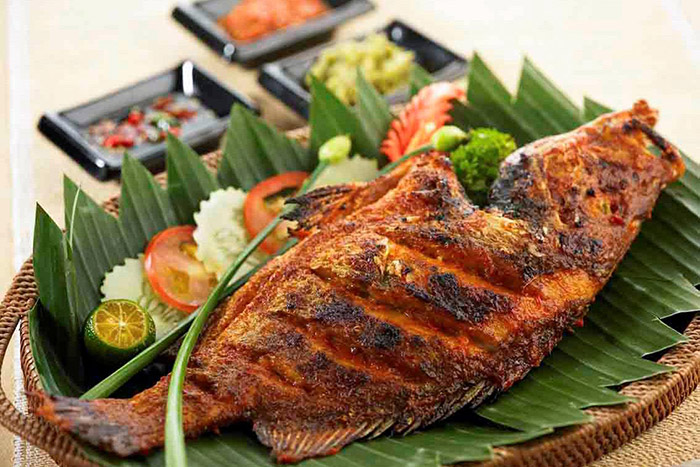 Another dish that is easy to find all over Langkawi island, is ikan bakar, or translated togrilled fish. Streetside restaurants will advertise ikan bakar on large signs in the front, or just follow the streams of smoke that rise from the grill.
Often times a smaller fish, like a mackerel, is used, and the fish is served whole, with a bbq sauce slathered across, and a sambal served alongside. Of course . . . there is always sambal!
7. Squid
We were lucky enough to go squid scooping or fishing for squid, one night while on the island. But this is a very common dish to find, and a must-try food in Langkawi. The best is squid that is breaded and fried, like fish and chips, and served with a sweet and sour sauce.
8. Mozzarella
Probably not a dish you would associate with the top foods to eat inLangkawi. Mozzarella is definitely not a local specialty. Many Malays don't have a taste developed for cheese. It is not part of the local diet. But, buffalo mozzarella is made right on the island.
A visit to the Buffalo Park ends with a cheese tasting, and it is possible to buy many different kinds of buffalo dairy products, including cheese and yogurt, at their little shop. If you eat mozzarella cheese at your Langkawi accommodation, chances are it might come from Langkawi island!
9. Ice Kacang
Ice Kacang, or "ABC Special," is a shaved ice dessert, loaded with sweet fruit syrups, and bright colored jellies. To go hardcore local, expect the ice kacang to have peanuts, kernels of corn, and often times kidney beans, nestled among the sweet flavored ice.
The best place to find ice kacang is on the road across from the airport. A perfect evening can include laksa and ice kacang while watching the sunset along the water.
10. Durian Langkawi
Okay, so I am not a fan of durian, the prickly green king of fruits, that when cut open reveals the smelliest fruit on the planet. On a visit to the 3D Art Museum in Langkawi, the manager offered us durian in a new way, frozen deep-fried durian.
I took a bite of Eric's, to be polite. Again, I am not a fan, but the Malays love it, and durian is everywhere. If you have never eaten durian before, Langkawi is the perfect place to try it.